Exciting news! I've just wrapped up and released the fourth closed Playtest for 15XX: my narrative skirmish game for Renaissance-era Europe.
How to View the Rules:
Current playtesters, check your emails or the Facebook group.
Not a playtester? Sign up to become one.
Rules Updates
While each playtest will include a host of revisions that are mostly minor – or clarifications of existing rules based on feedback and questions, some of the major changes are as follows:
Terrain and grid rules have had a major overhaul to make them more clear and easier to use
Some cleaning up of some rolls and mechanics (e.g. giving artillery fire its own roll – and +1 bonus)
Reducing the footprint of the game to a 6×6 grid and reducing movement accordingly – this means the game can be played in a 2x2ft space in 15mm, which is awesome!
Fleshed out the Group Motivations and Troubles as well as adding Social Class as a Group-level trait that can be invoked. This should build on the narrative base of the rules.
Pushing the heavy narrative scenarios and campaign play off to Playtest 5 this summer. I'm still not comfortable with where I'm at with those rules. I didn't want to keep waiting on releasing the big updates I *do* have until that's done.
Updated the Party Roster: it's now a double sided sheet, which gives more room for handwriting – and the RP-inspired, narrative fluff the game is designed to embrace.
As always, I'm tracking major releases in the game's Change Log page.
St. Louis, Missouri Playtesters Wanted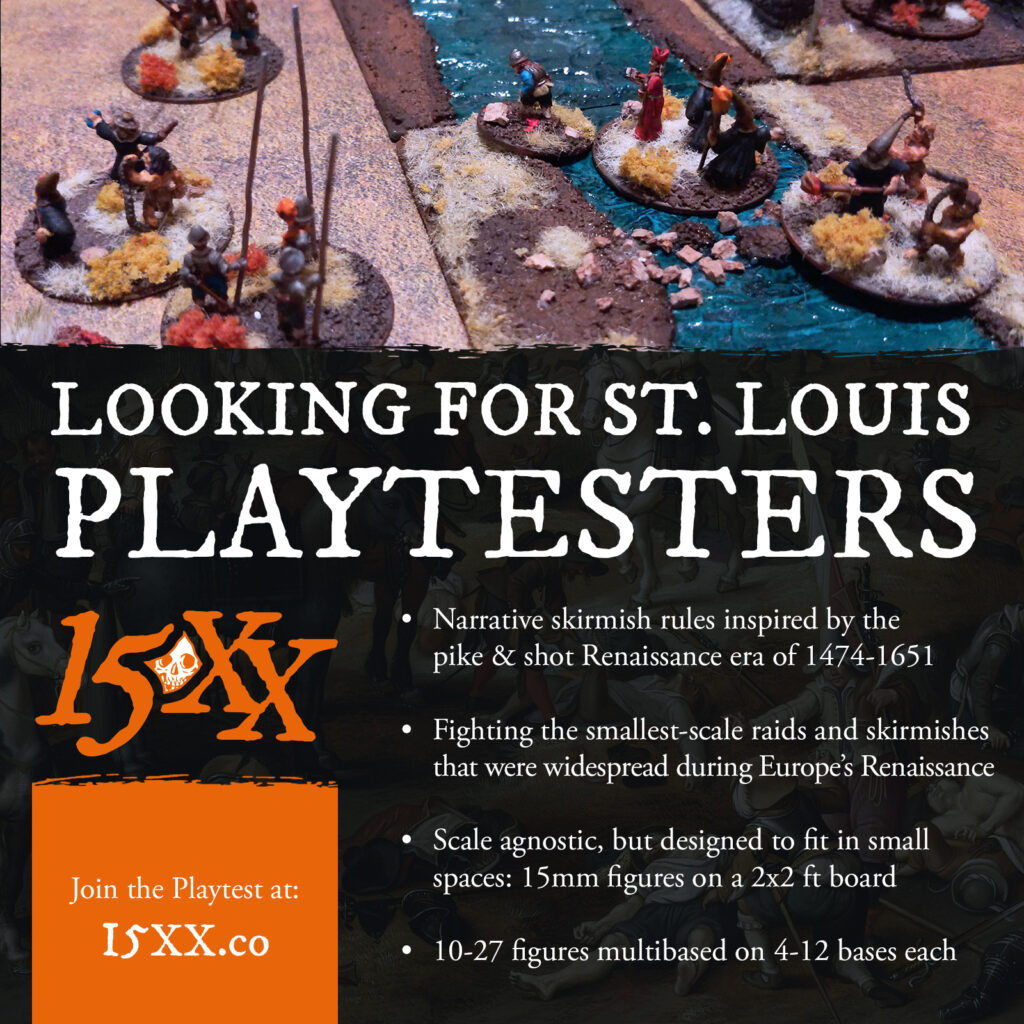 Covid-19 remains a legitimate concern facing the world, but with the availability of effective vaccines (that I am happy to save I've had), I feel it is reasonably responsible to begin careful in-person playtesting once more.
If you're in the St. Louis, MO area (or within a 90min drive), I've love to demo the game with you and get your feedback.
I'll provide a copy of the rules
I'll provide a choice of figures for your warband
And if you really like the rules, I even have spare figures for you to start building your own in 15mm – for free!
If you'd like to check out the game, please email me or reach out via the Facebook playtester group!